Back of the Napkin (BOTN™) – Solving Problems with Pictures
Overview:-
A picture is worth a thousand words. Many business leaders are replacing complex presentations with simple drawings in order to convey a strong message that sticks. A refreshing change from traditional proposals and bullet points, Back of the Napkin (BOTN ™) is a powerful new method to communicate ideas through visual thinking. This bold methodology teaches delegates to crystallize ideas by sketching diagrams. BOTN ™ proves that grabbing a pen and paper to draw the good old way can be more effective than delivering verbal information.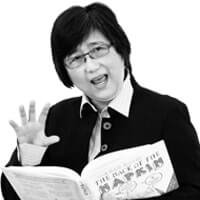 We are bringing Goh Ai Yat, principal BOTN ™ course leader in Asia, to help participants solve business problems, orchestrate productive brainstorming sessions and sell ideas to key stakeholders in this interactive webinar. As a practical primer on mastering the Visual Problem-Solving Toolkit, BOTN ™ provides a comprehensive system of ideas, tools and rules to facilitate picture making. We will be breaking down the framework for visual thinking using a simple set of visual thinking tools – tools that take advantage of everyone's innate ability to look, see, imagine, and show.
BOTN ™ is based on the best-selling business and innovation book of the year as voted by Business Week, Fast Company, Times of London and Amazon.com. The author Dan Roam and his whiteboard have appeared on CNN, MSNBC, ABC News, Fox News and NPR.
Meet Goh Ai Yat
Goh Ai Yat, a former senior banker, is the principal course leader in Asia for The Back of the Napkin™ – Solving Problems with Pictures for Digital Roam Inc. (US). Ai Yat regularly conducts business skills programs for executives to stay relevant in today's challenging operating environment. Some of the related programs she has conducted are The Entrepreneurial Manager, The Entrepreneurial Employee, Thriving On Challenges and Creativity & Innovation –The Rules Have Changed!

1010 – 1012, Ansal Tower No. 38, Nehru Place, New Delhi, Delhi 110019
Copyright All Rights Reserved © 2018