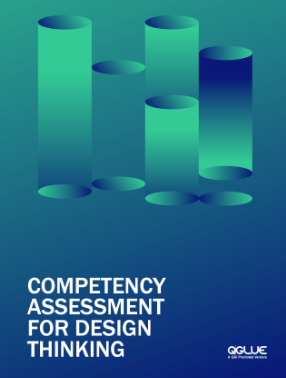 The QGLUE Capability Assessment for Design Thinking
The QGLUE capability assessment is based on the Design Thinking competency framework. CAPABILITY This online assessment presents a set of 40 questions across 8 competency areas and 25 knowledge areas. This framework is used to analyze how companies sense and respond to emerging needs in order to create new value by adopting a design thinking dynamic capability.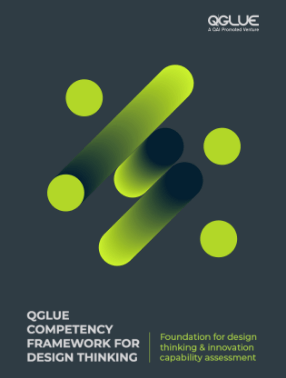 The QGLUE Competency Framework for Design Thinking
The QGLUE Competency Framework for Design Thinking has been developed to provide both individuals and organizations with guidance on how to enable, nurture and grow the professional development of the design thinker & innovator. Organizations can use this framework to educate, assess and enable their teams on design thinking and innovation capabilities.
The QGLUE Design Thinkers Playbook
This is a Playbook Not for everyone but for those who dare to build a future-proof organization. We have captured some of the most powerful design thinking and innovation tools in this playbook. Each tool is meticulously displayed on a separate page and can be used as templates.
Trend-Driven Innovation - Primer
The Trend-Driven Innovation Primer Primer introduces you to the concept of trends and how you can identify emerging patterns and behaviours QGLUE before they become mainstream. It will enables you Leverage trends to gain a competitive advantage with the 3-step Trend-Driven Innovation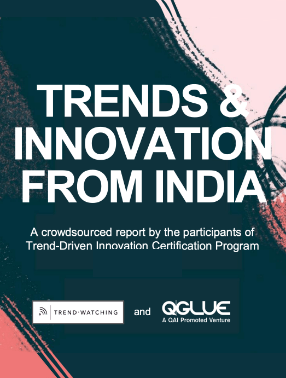 Trend Watching - QGLUE India Report
TrendWatching – QGLUE report amalgamates the basics of the trend hierarchy.trend framework and trend analysis crowdsourced from previous Trend-Driven Innovation workouts. Get a gist on how to identify consumer trends and detect emerging expectations before your competitors catch on.
We have a series of 10 workbooks designed to help you solve various business challenges in 200 minutes. The workbooks amalgamate the best practices of design thinking to find innovative solutions for business challenges. The workbooks will be available to you as a DIY kit once you engage with QGLUE for the Solve For X initiative, which is a series of high paced, intense and time-boxed workouts. Upon enrolling for the workouts, you will receive all the support, guidance and tools you need to create great results rapidly.

1010 – 1012, Ansal Tower No. 38, Nehru Place, New Delhi, Delhi 110019
Copyright All Rights Reserved © 2018